Sakatah Lake State Park was our first of many Minnesota State Park camping trips in our new rooftop tent! We filled our 20 hours with hiking, cooking & relaxing in the spring woods.
Sakatah Lake State Park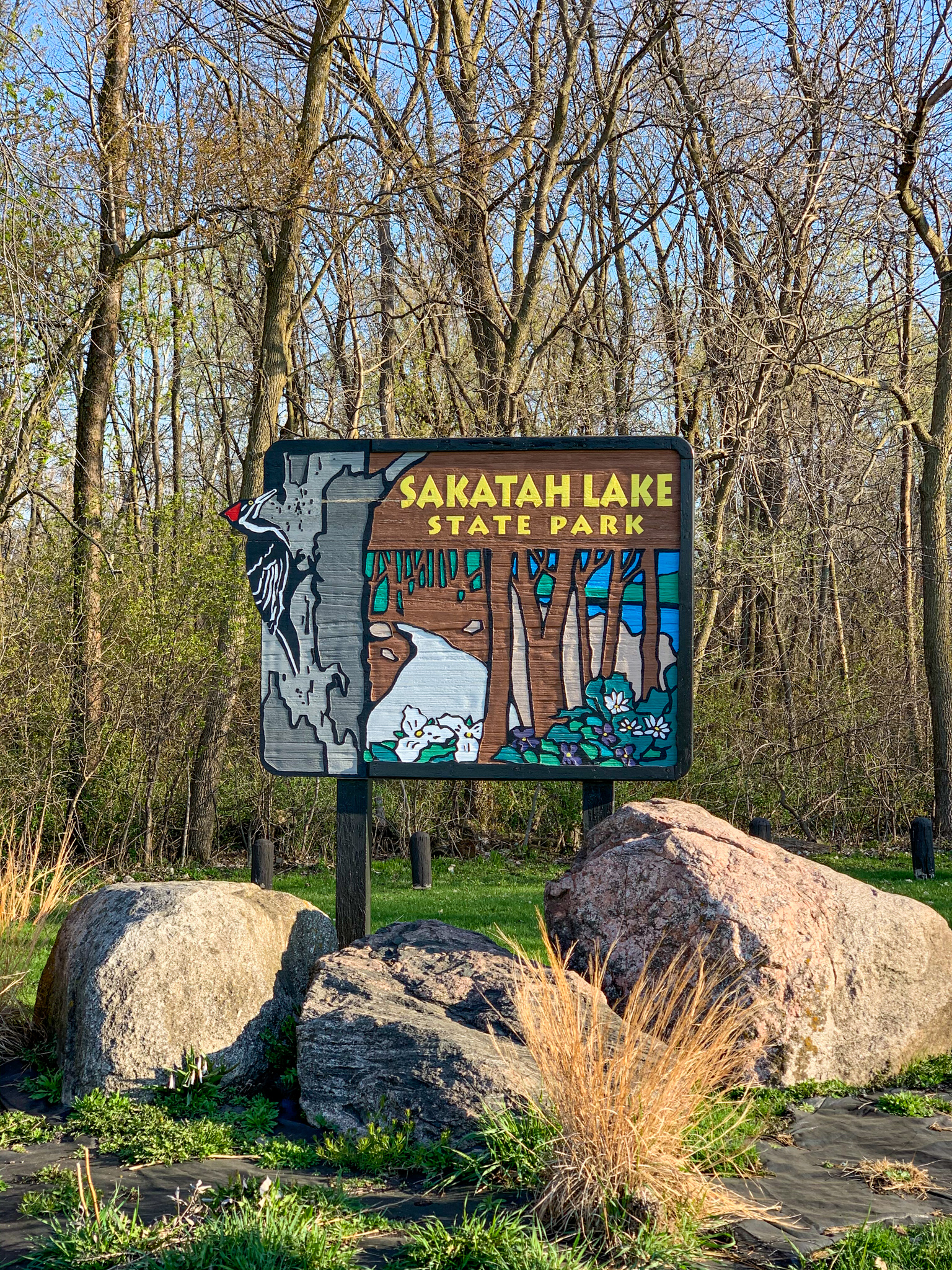 Welcome to a new section of Homemade Haley…Adventures Away from Home! My husband jokes that he should start his own blog for this content called "Backwoods Ben". I laughed and told him I would definitely include that name in here. 🤣
With our new rooftop tent mounted and ready to go, we paged through our Minnesota State Parks book looking for a quick overnight getaway close to home. To our surprise, there are a TON of state parks under an hour away from our house! We landed on Sakatah Lake State Park for our first family camping trip with our new tent.
According to the DNR State Park website, members of the Dakota Nation, the Wahpekute (Wah-pay-coo-tay) tribe inhabited the area that is now the park. They named the area Sakatah, which translates to "the sights and sounds of children playing on the hill," or loosely translated as "Singing Hills" for the state trail.
Short 20-Hour Trip
We loaded up our coolers, camping bins, and rooftop tent and hit the road for a short 20-hour camping trip! Sakatah Lake State Park was an easy 30 minutes from our house down I-35 and before we knew it we had made it to our destination. We checked in, paid for some firewood, and found spot #44 to call home for the night.
It was mid-April, but we luckily had a super nice sunny day. I was worried our spot would be shaded and cold, but then I remembered there were no leaves on the trees yet to shade us! We tried out a few different parking scenarios before we found one that would be the most level for the truck and our tent. Once the parking blocks were in, it was time to set up camp (my favorite part).
First thing was to get our rooftop tent set up, which is as easy as undoing the straps, unfolding it, and popping out the windows and door! I will do a post in the future about how we even ended up with a rooftop tent, why we chose the one we did and what we love about it.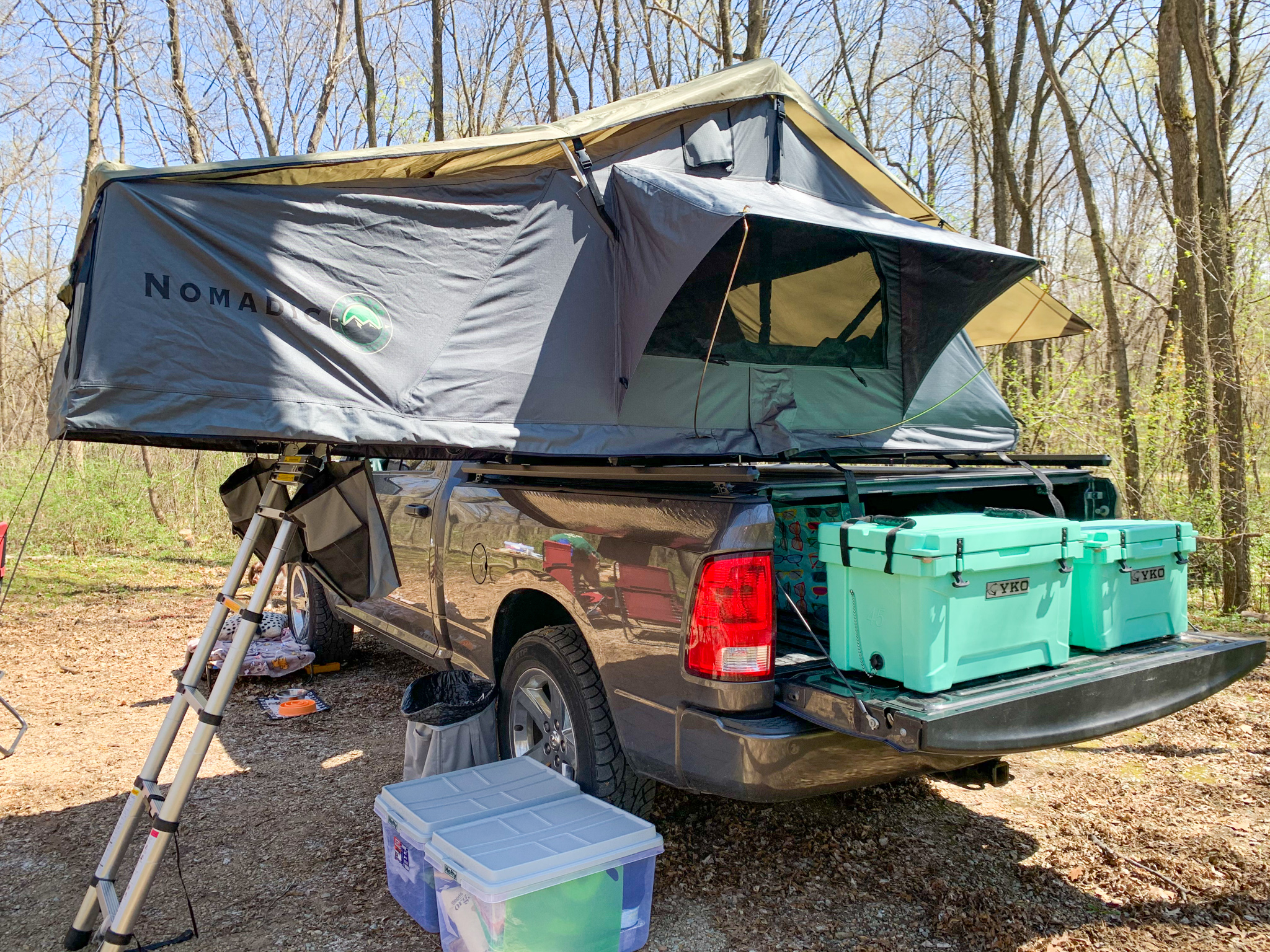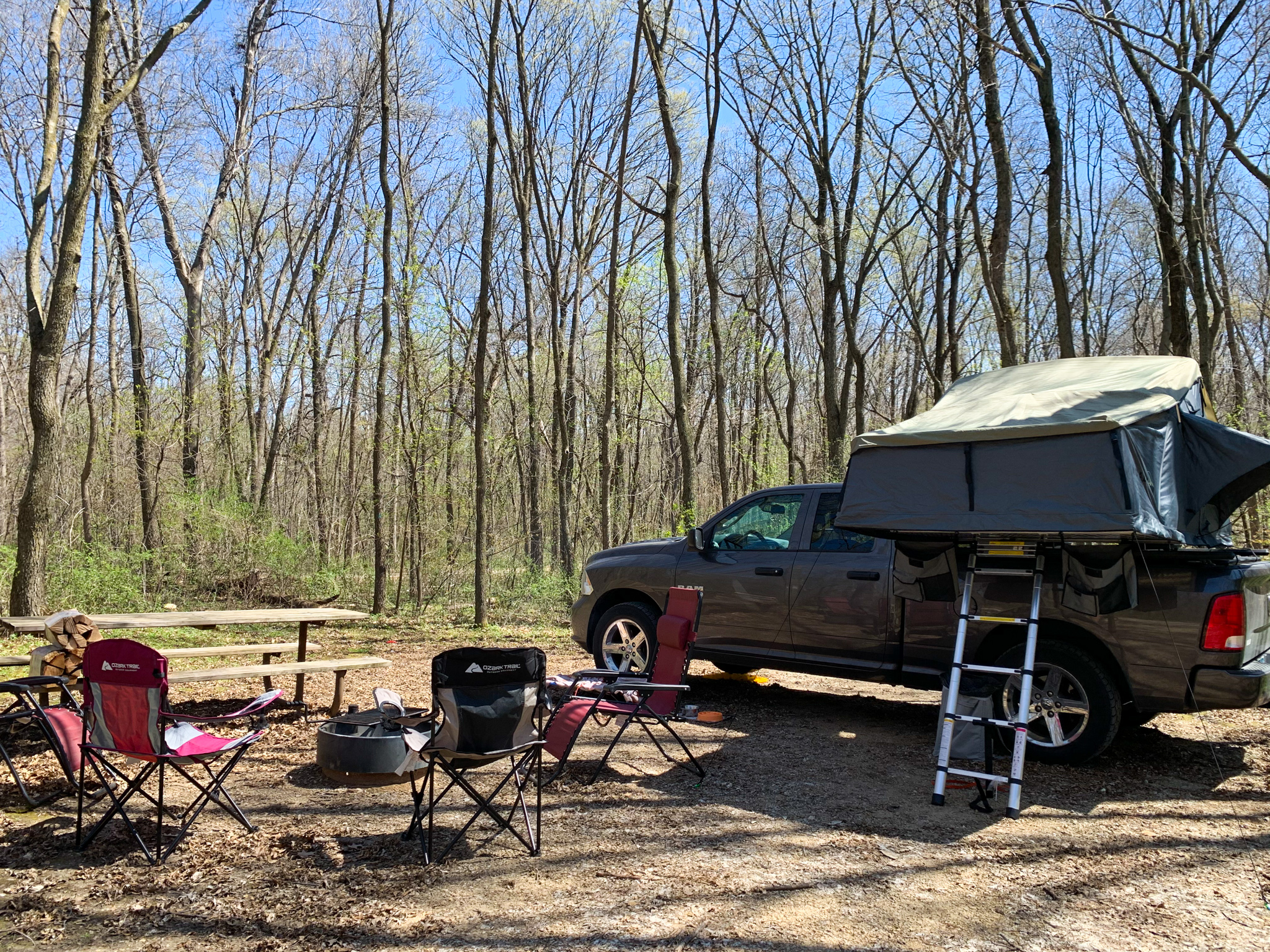 When Ben was done with the heavy lifting, I got the bed all made and set up the kitchen. We were planning on checking out a 3-mile hike through the park and down to the lake but first needed some lunch. You bet I planned a whole menu of what we would be eating for lunch, snacks, dinner, and breakfast! I will attach what we packed and planned down below. I tried my hand at our new pudgy pie maker but failed terribly as we were in a hurry and I didn't let it cook enough to crisp up. Luckily it was just a Peanut Butter, Banana & Honey sandwich that didn't require much cooking.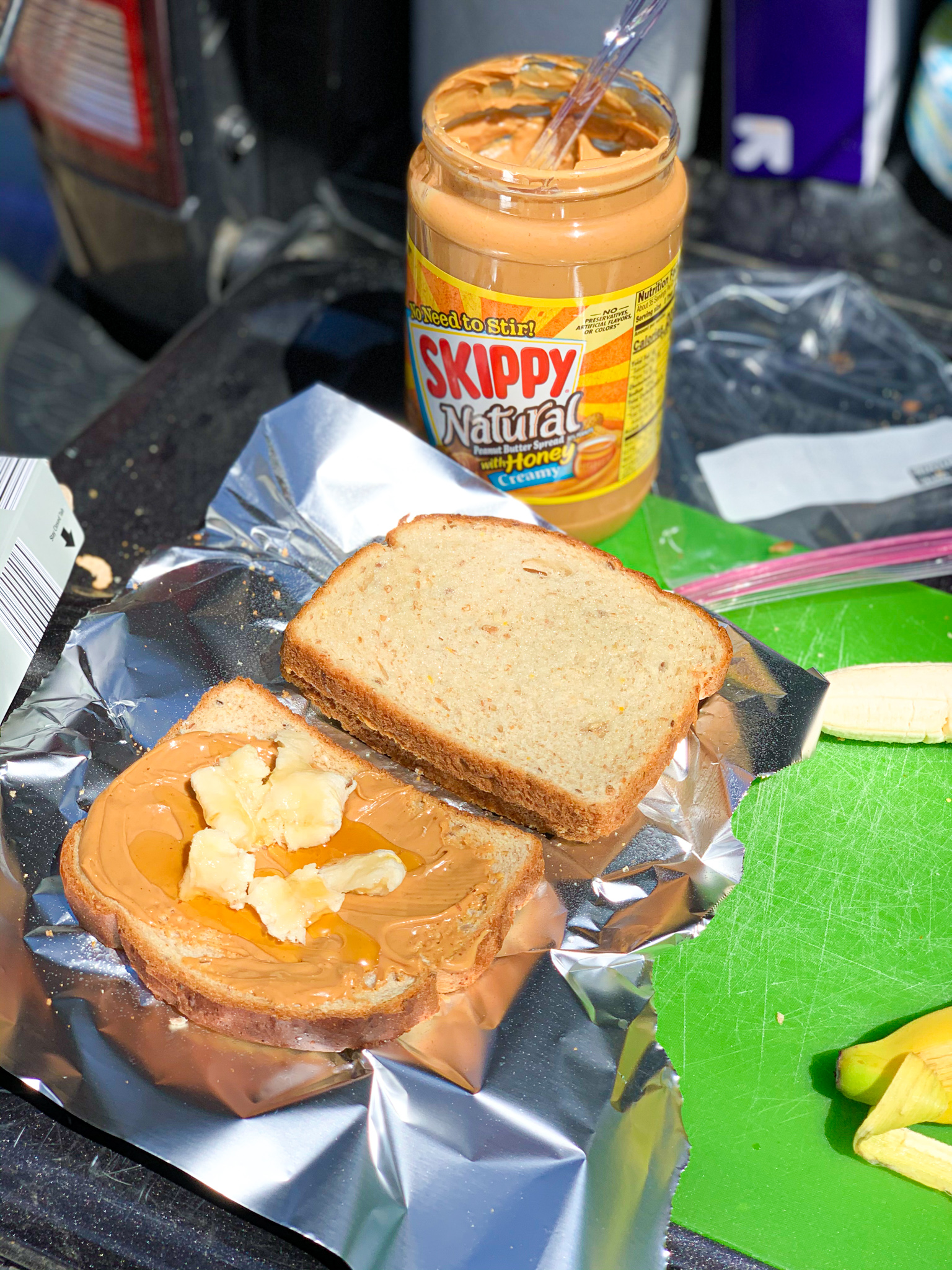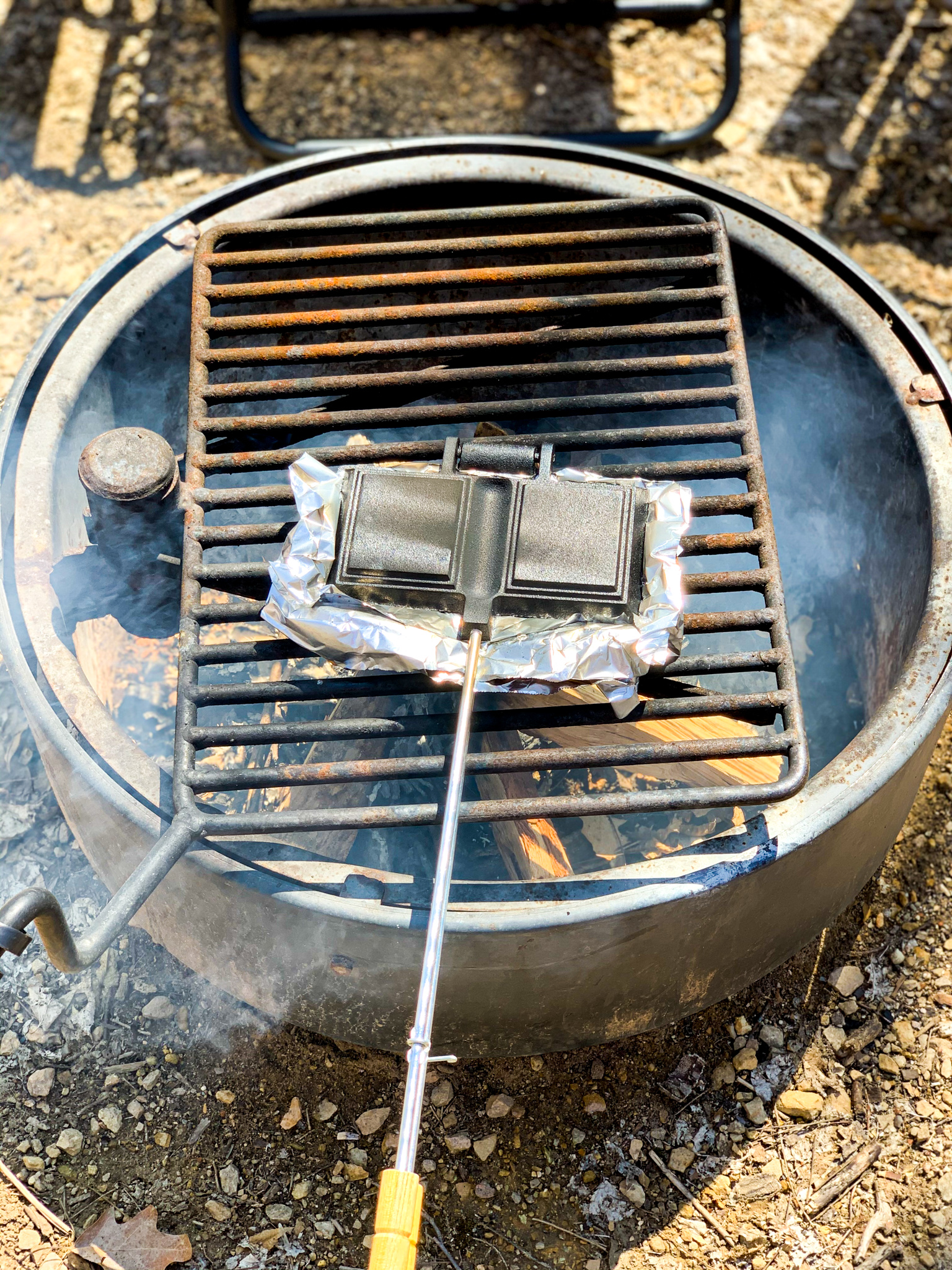 Trail Highlights
Nourished and ready to go, we put on our hiking shoes and headed out to the trail. It was a gorgeous and unique time of year when the trees are still barren, but the forest floor is starting to bloom. Everywhere you looked there was a blanket of green with pops of wildflowers just starting to grow.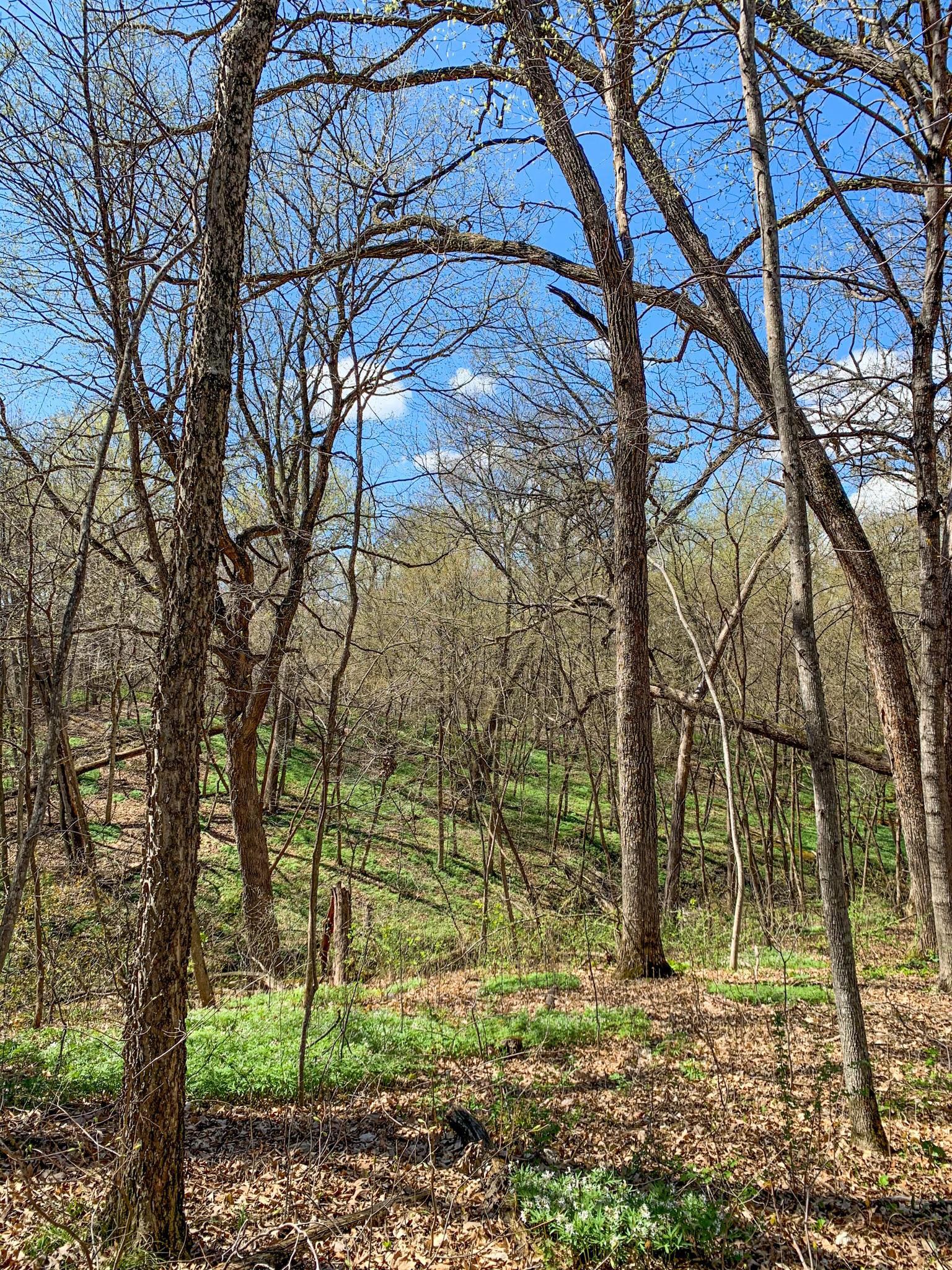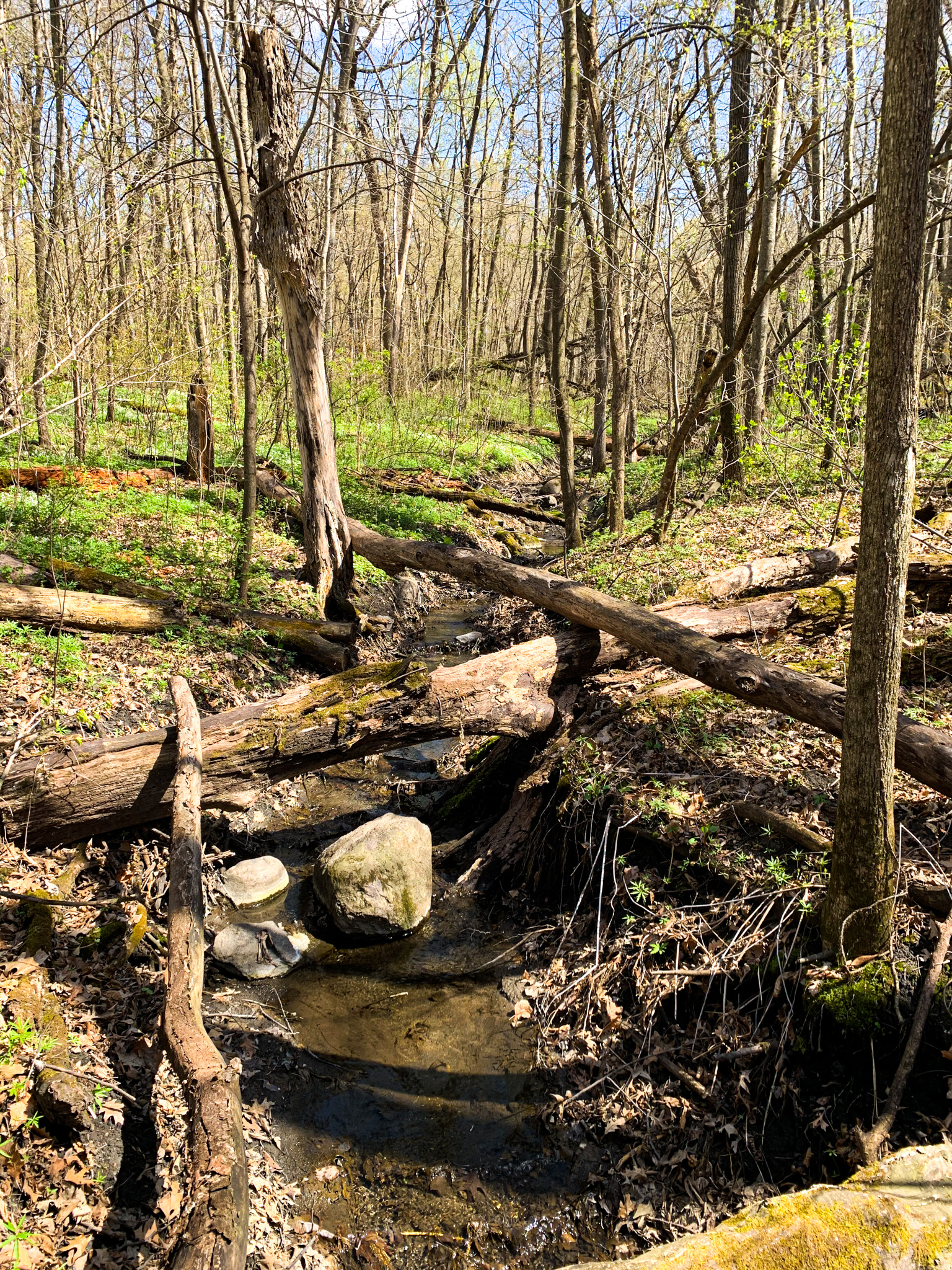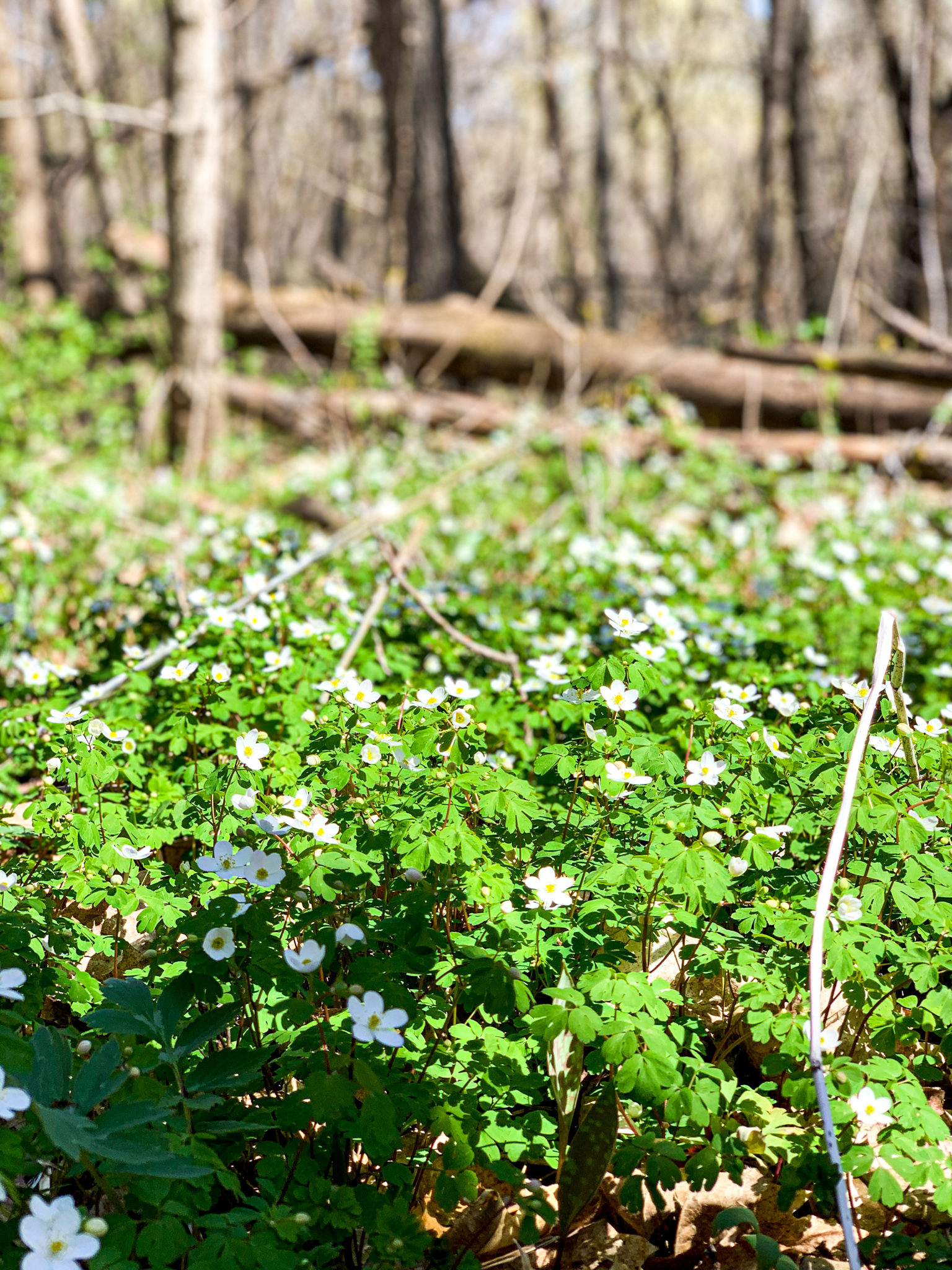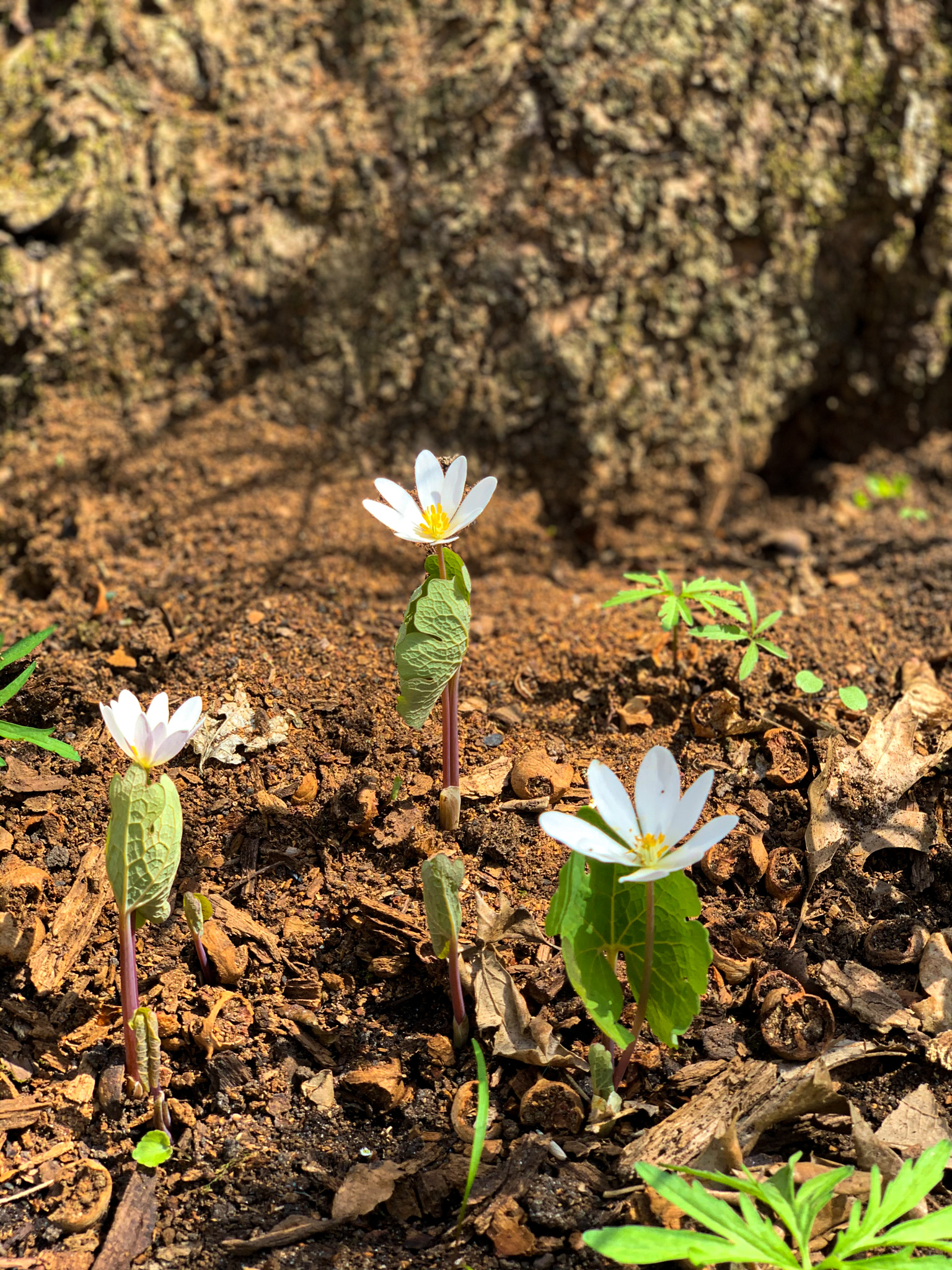 The park also joins in with the Sakatah Singing Hills State Trail, which is a 39-mile paved bike trail that connects Mankato to Faribault. We will 100% be coming back here in the summer for a weekend of camping and biking! The trail is very well maintained and flat, my kind of biking.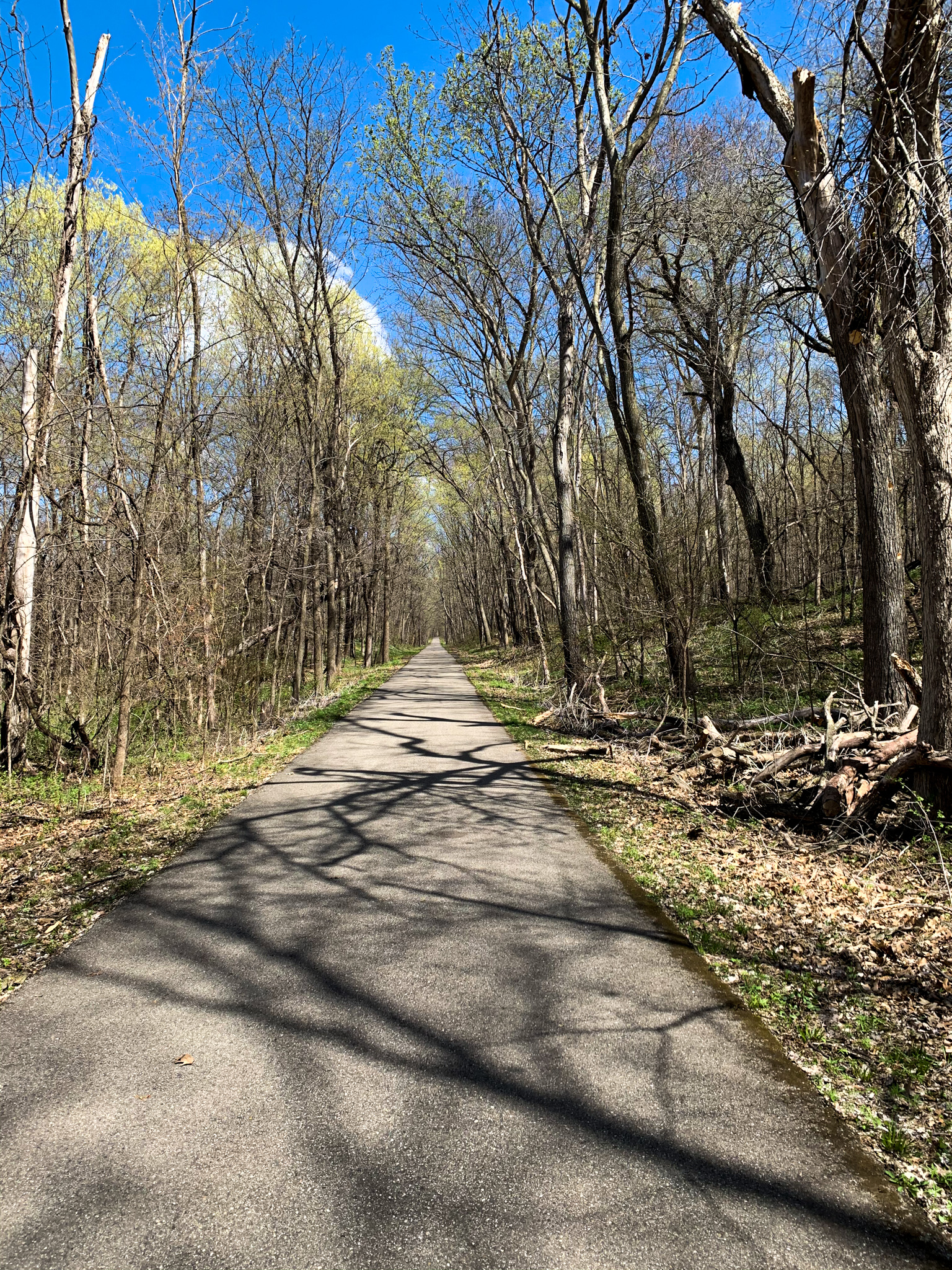 We crossed the bike path and hike along the lake on the Wahpekute Trail and then made our way to the other side of the park to the Hidden Pond Trail. After about 3 miles, we made it to the ranger station to get our souvenir sticker to go on Ben's homemade grill/stove stand. We can't wait to fill it up with stickers from our travels!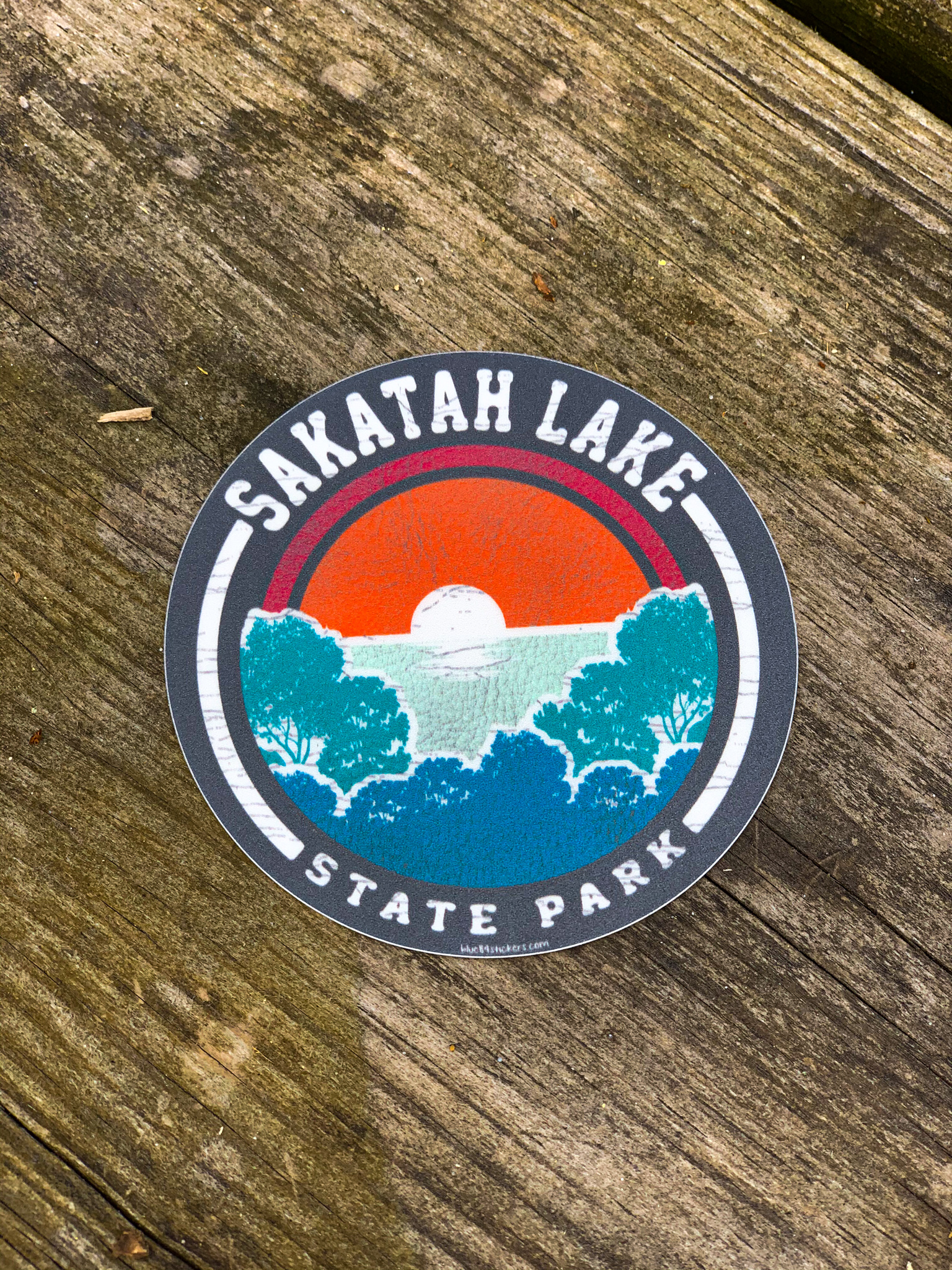 Back at Camp
Back home for the night, we got the fire going, cracked open a cold beverage, and put our feet up! I also took the time to make our camp a little more "homey" and relax in the tent. My Grandma got us this adorable mat for the base of our ladder and it worked so perfectly!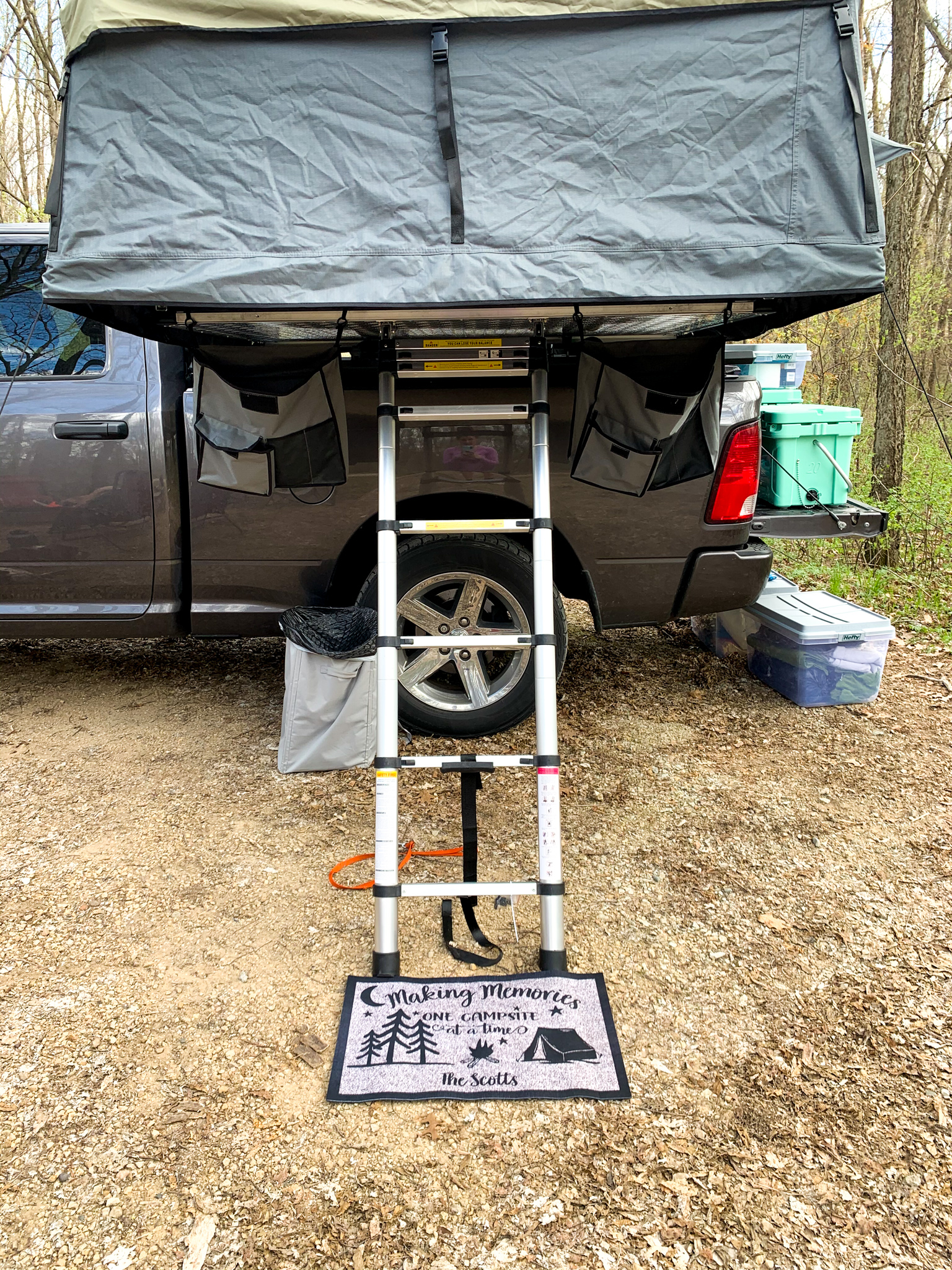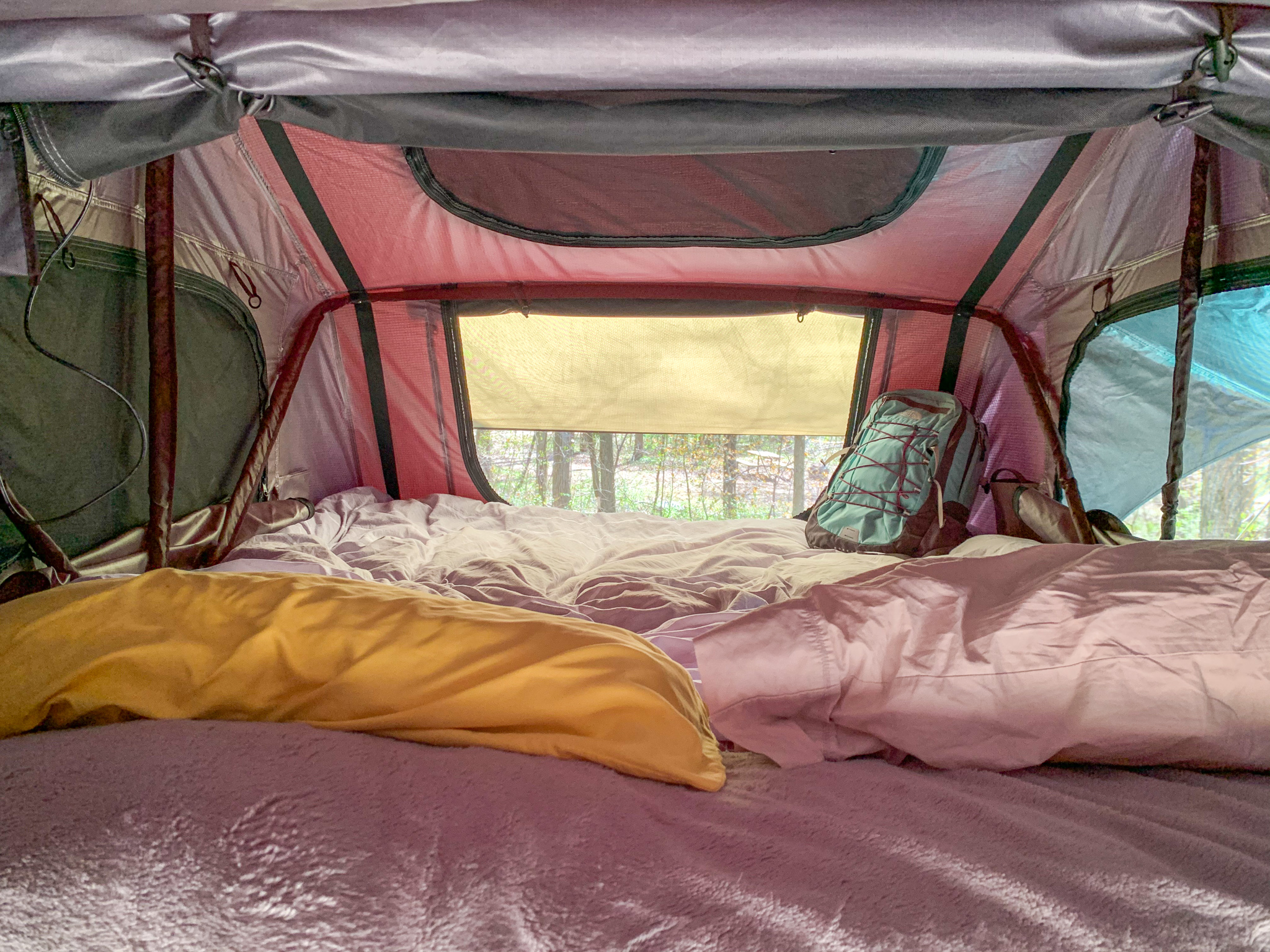 One thing I love about our rooftop tent is how you are off the ground and feel like you are in a treehouse! I can't wait until it gets warmer and we can open the skylight at night and let the breeze come in.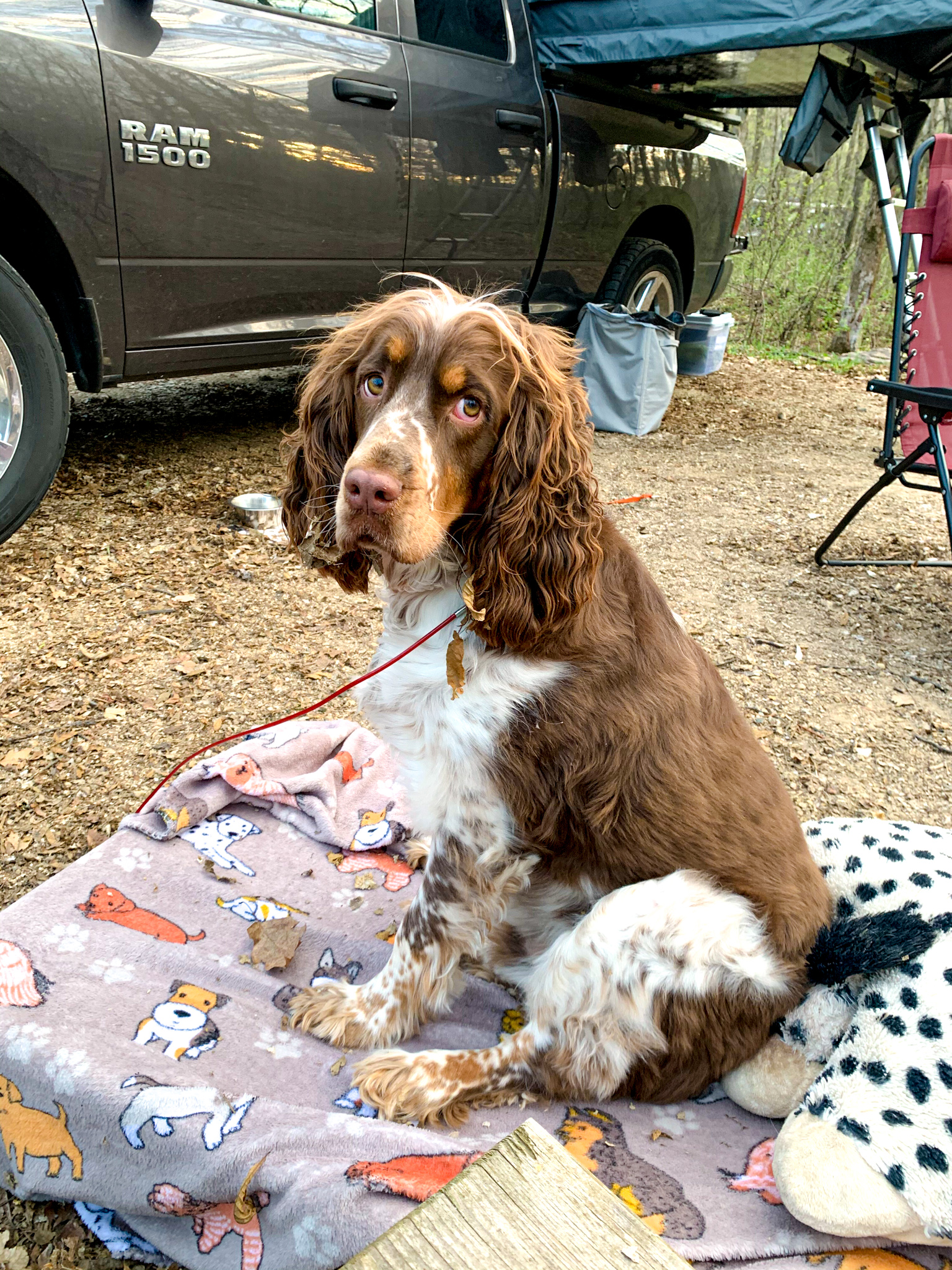 Lester even has his own little camping chair/bed to hang out on…even though he would much rather be laying in the woods eating sticks.
We made campfire nachos for dinner which were AMAZING and so filling. I made a separate blog post about them with the recipe here: Vegetarian Campfire Nachos.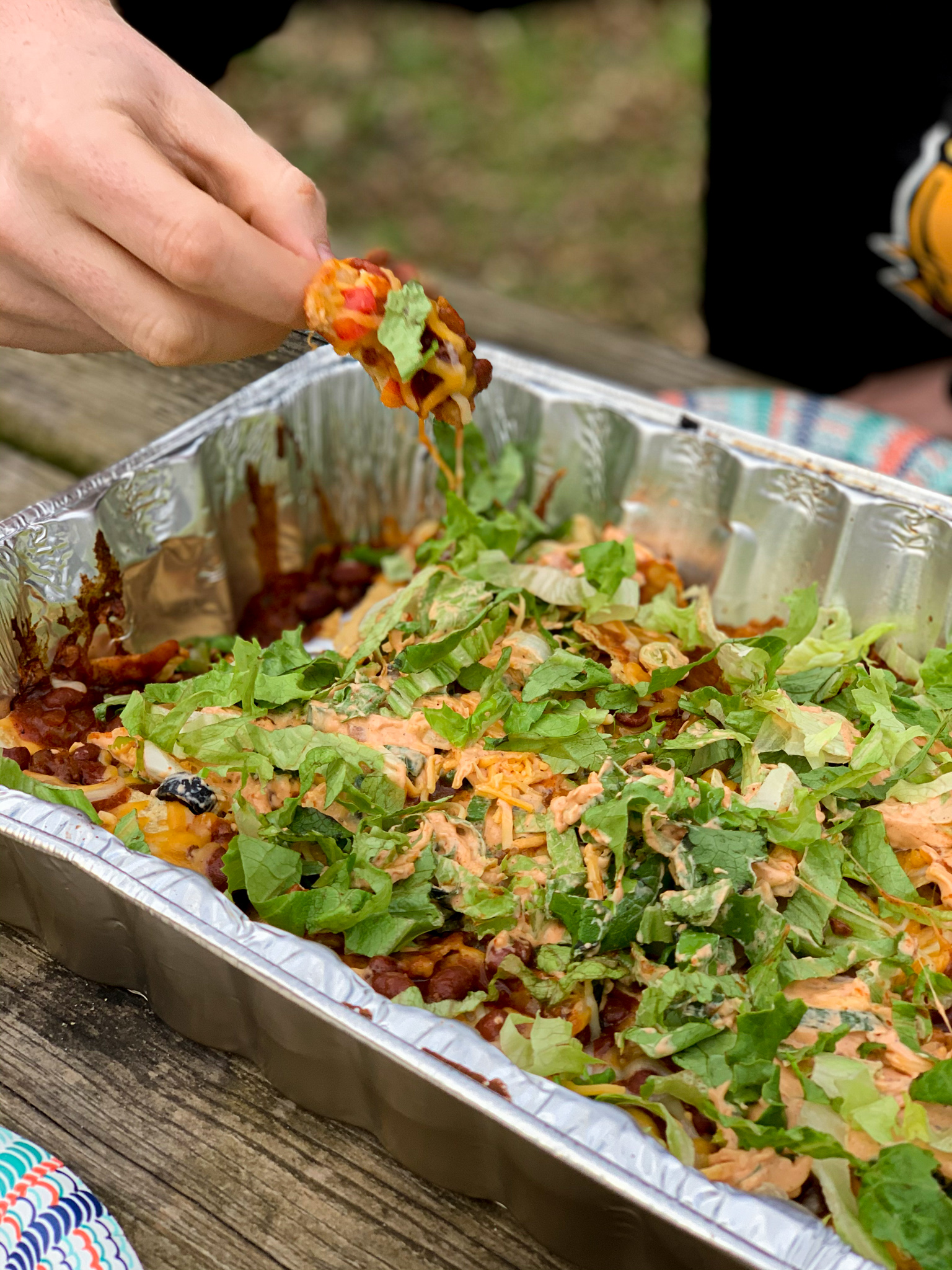 After an eventful day, we played a card game, watched the sunset behind the naked trees then crawled up into our cozy nest of a tent and hit the hay! As you can see, Lester is a big fan of getting to sleep in between his parents.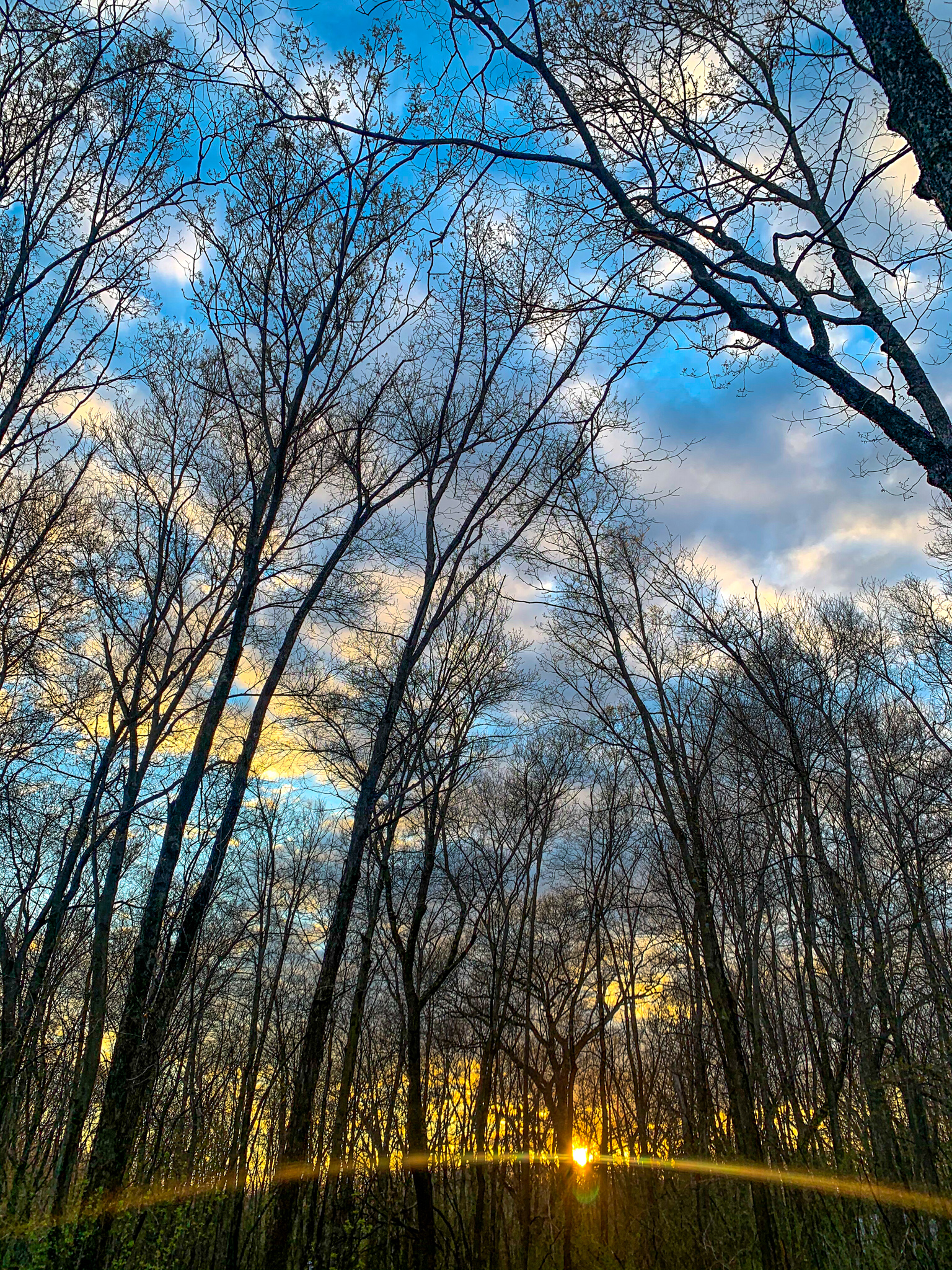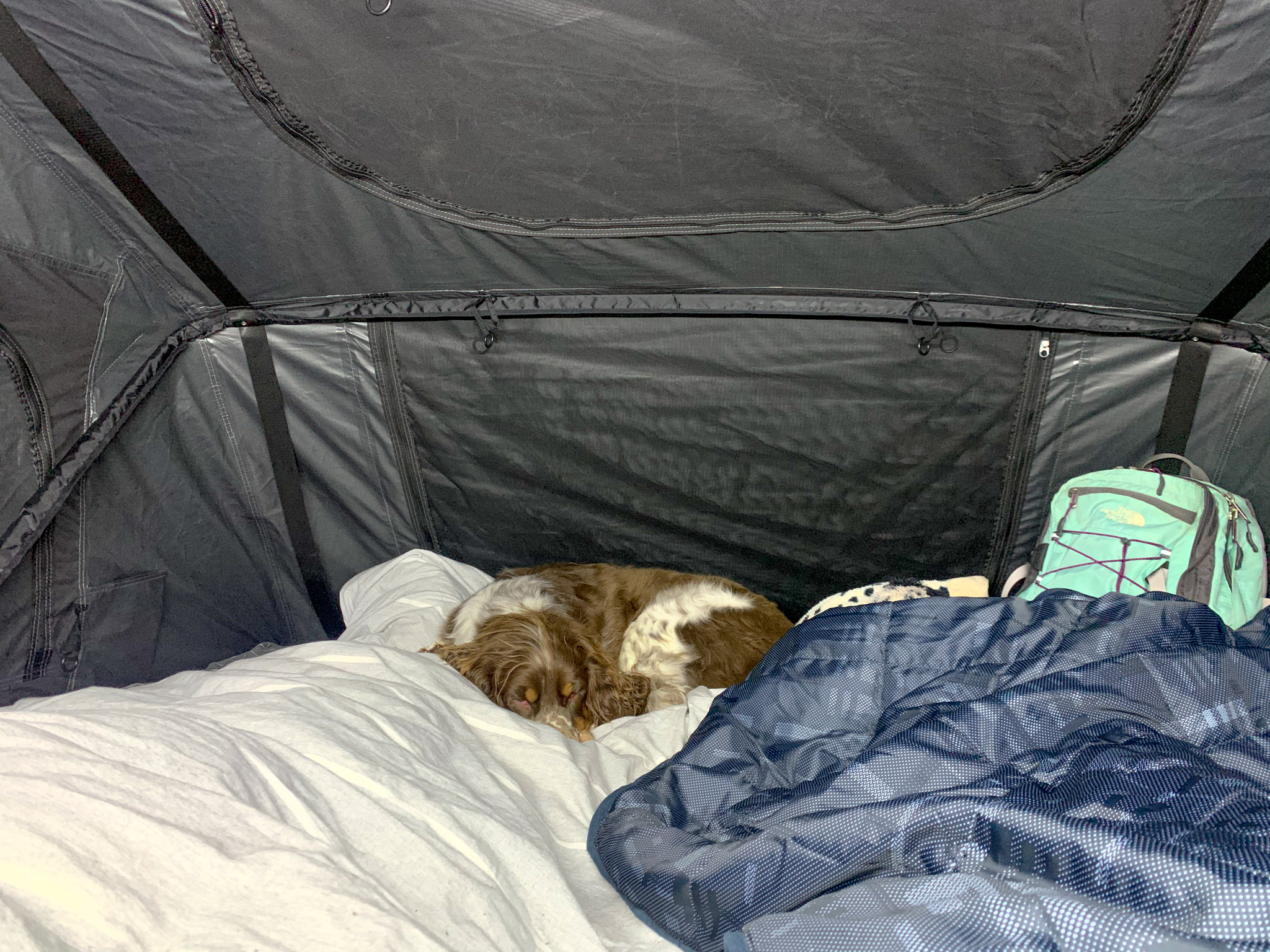 The Next Morning
After a surprisingly very warm night in the tent, we were up with the birds around 5:30 am and ready for some coffee. We didn't pack our camping stove for such as short trip, so we got the fire going to boil the kettle. It was quite chilly before the sun came up, so the fire was much welcomed as we huddled around in our hats and blankets.
We tried out this Kuju Single-Serve Pour Over Coffee that we grabbed last-minute in the checkout line at Sierra. It was really good and honestly fun to make!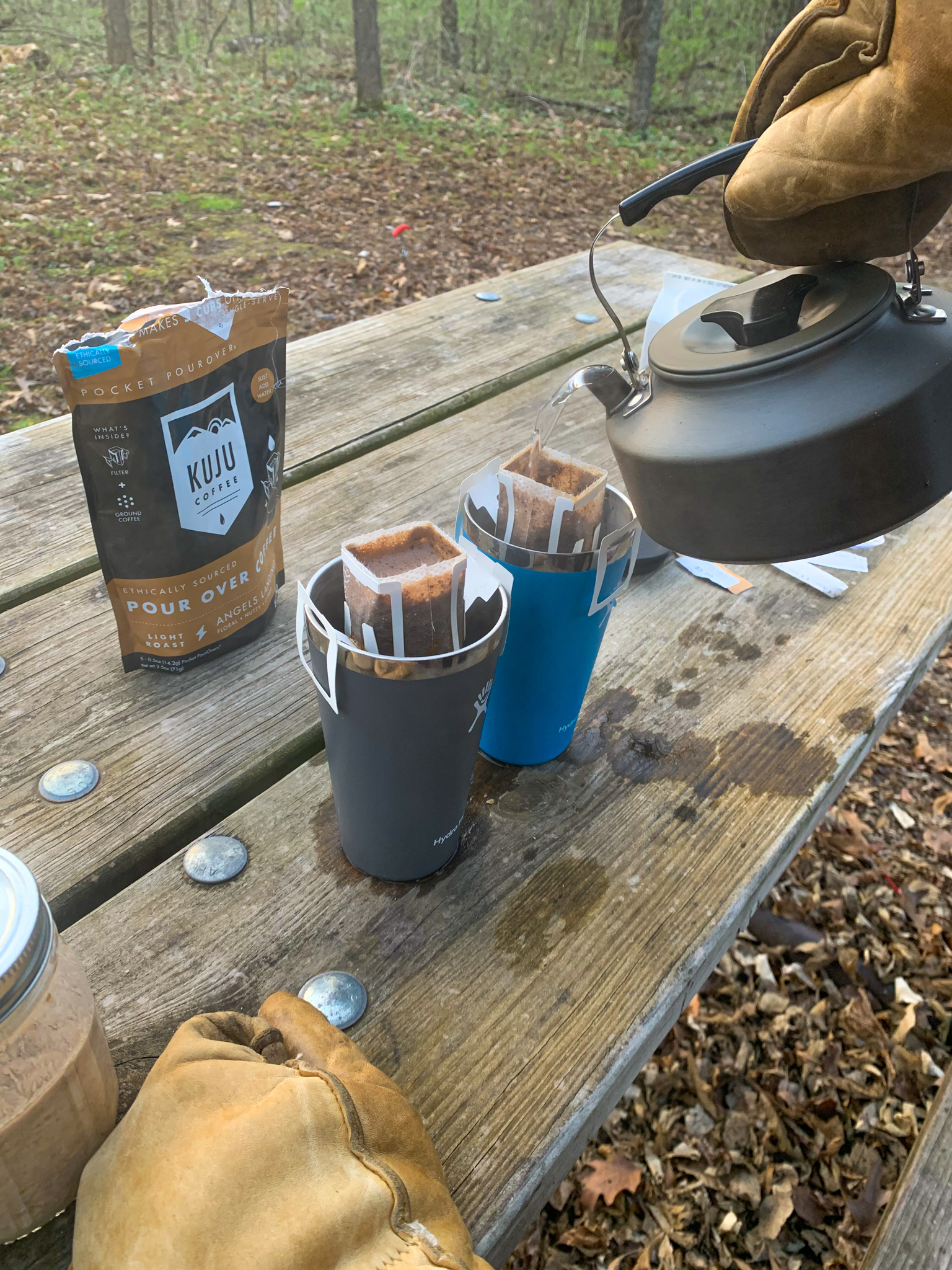 I also planned ahead and made us some Banana Bread Overnight Oats from Eating Bird Food for breakfast. These are our favorite and were the perfect quick camping breakfast.
Camping Menu
Here is all the food we packed and an example of what your camping menu could look like for an overnight trip:
DAY 1:
DAY 2:
After we slowly sipped our coffee, we started to pack up, which was a pretty quick process! Ben loaded all the bins into the truck while I packed up the bedding from the tent. Once everything was packed away, all there was left to do was to fold up the tent, strap it down, and away we went!
We had such a blast in the 20-hours we were there and cant wait to go back! Next week we are headed to Nerstrand Big Woods State Park on the other side of the highway for another quick overnight and some hiking.
Thanks for reading this semi-non-food post and letting me share a little more about our lives and adventures! From our campsite to yours,
xo Haley & Ben