This Easy Summer Orzo Pasta Salad will soon be a family favorite! A quick 15 minutes and you have a fresh and cool side dish for any summer BBQ or get-together!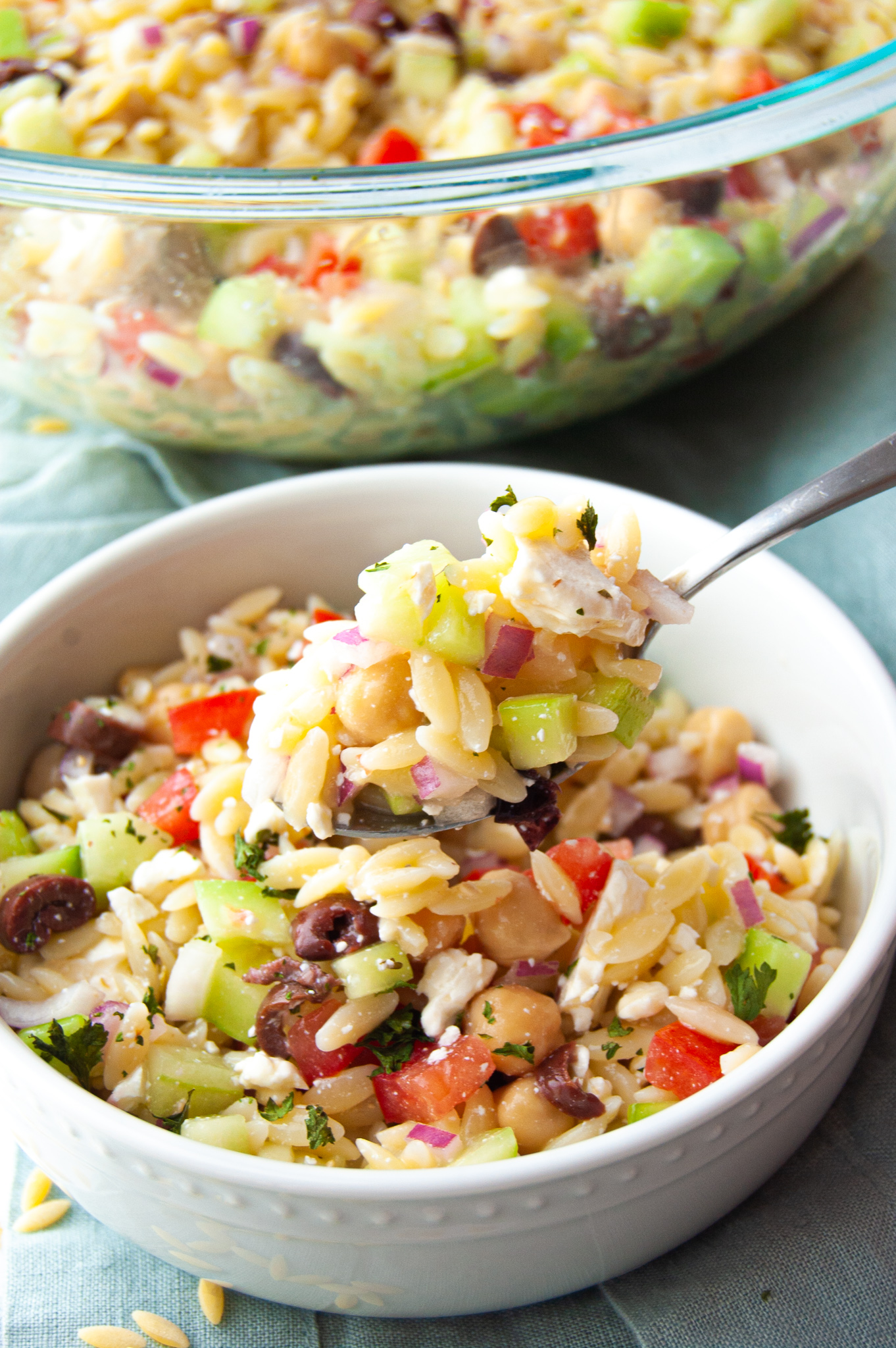 Minnesota Summers
Ahhhh summer….weekends at the cabin, graduation parties, family BBQs! In Minnesota, we have a good 3 months out of the year to fit all of these in. It's only April and my summer weekends are halfway booked up!
When I think of all those events mentioned, the first thing that comes to my mind is pasta salad. No joke! I will go to every single graduation party I am invited to in the hopes of an array of various pasta salads.
So it's no surprise that when I am asked to bring something to a summer event, this orzo pasta salad is my go-to! My mom has been making this for years and it has always been my favorite. I really think this is where my LOVE for chickpeas and feta started! I can remember we always had the biggest bowl of it in the fridge all summer long and I would just stand over the counter with a spoon and eat right from the bowl (not going to lie, I still do this!).
What is Orzo?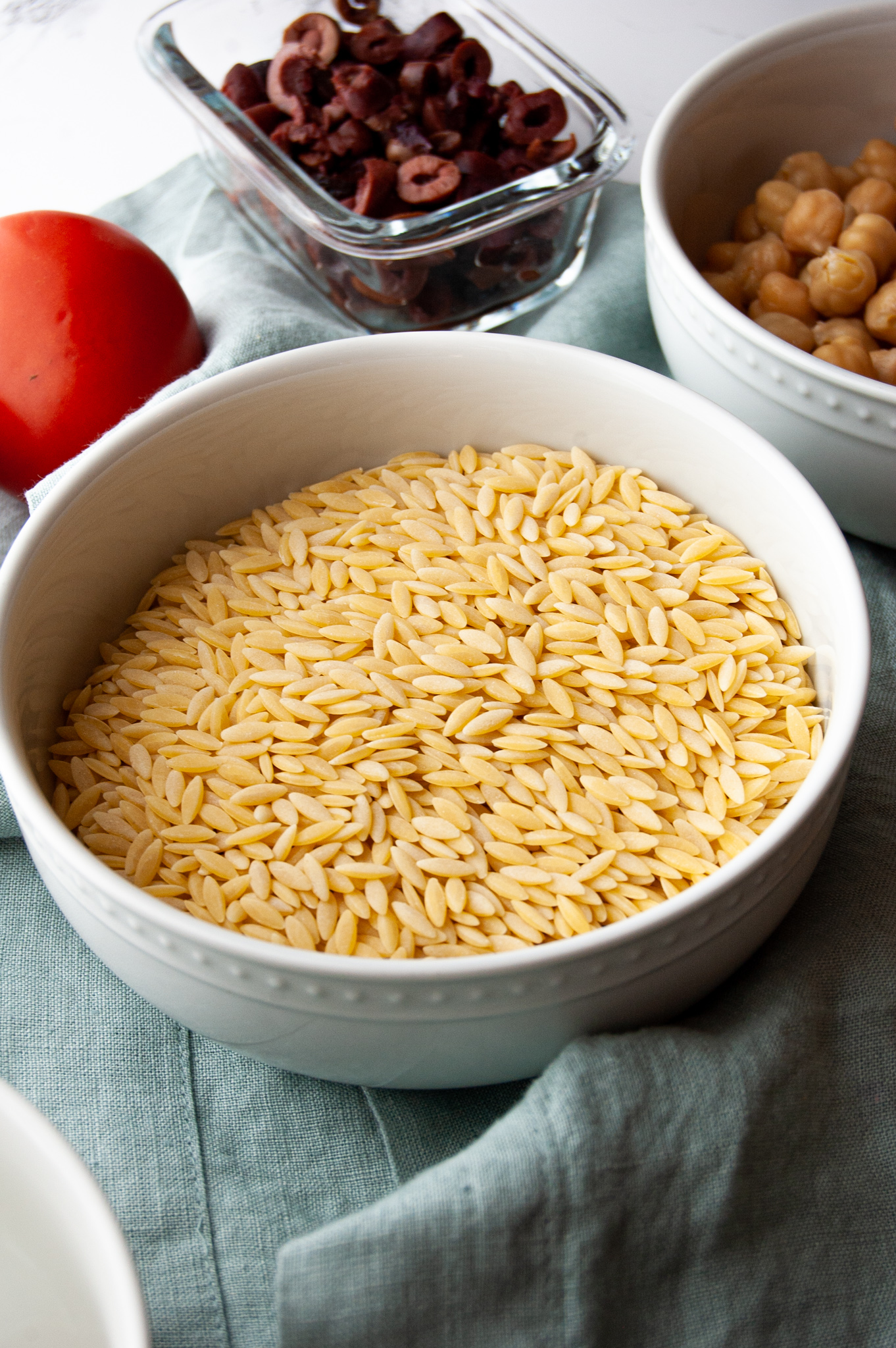 Looks like rice, doesn't it? It is actually a type of pastina, which is a word used to describe very small pasta. You cook it just like you would any other type of pasta – in a pot of salted boiling water, for 8-10 minutes. Speaking from previous experience…make sure you stir occasionally while cooking! I maaaaay have had an incident where I managed to burn the whole box of orzo, while it was boiling in water.
Simple Ingredients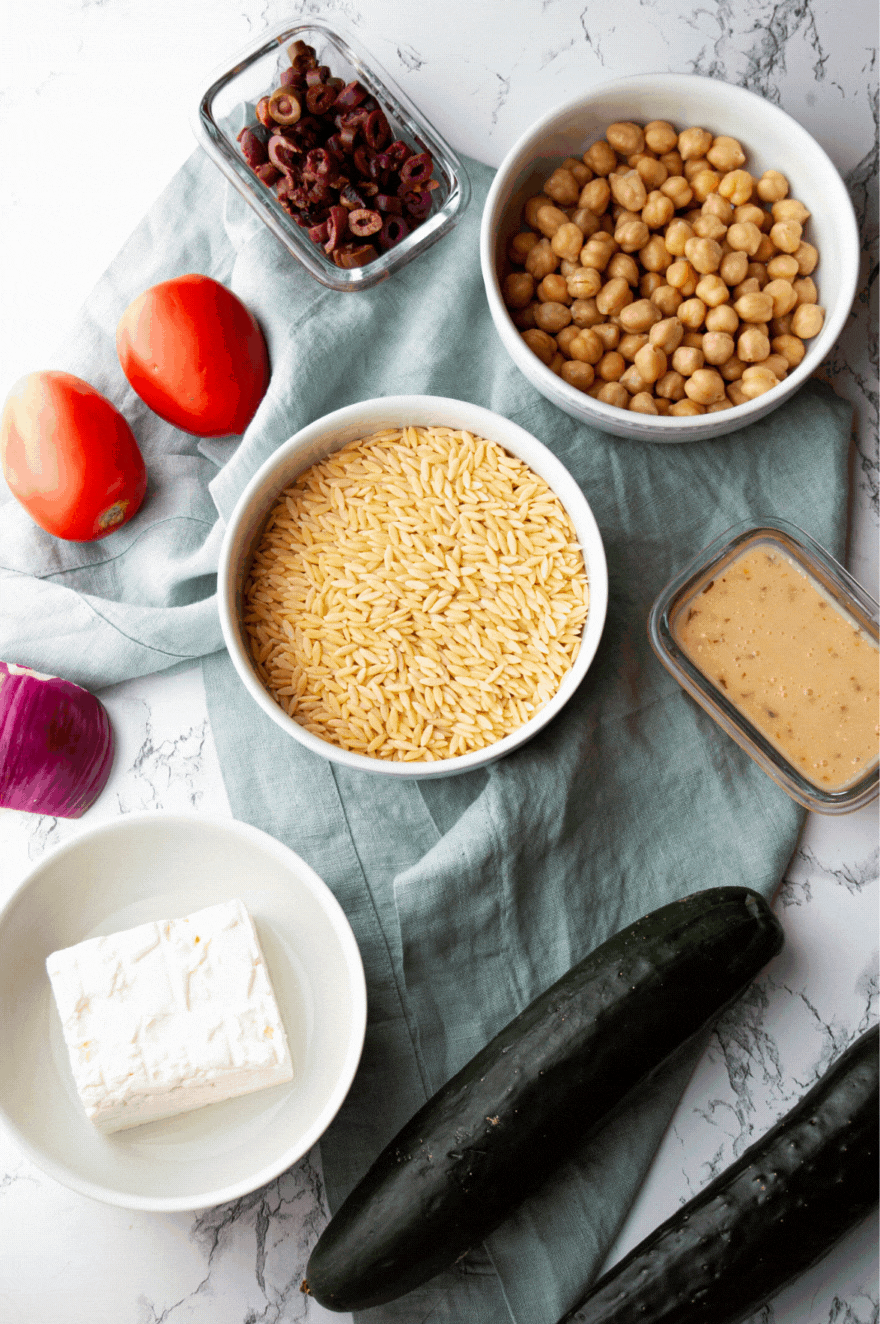 As the title suggests, this summery pasta salad is super easy! While your orzo is boiling, you can chop and prepare all the other ingredients so you are ready to go. You will need:
Orzo

You could also sub in any small pasta. I love the texture smaller pasta gives this salad vs larger types like bowtie or penne. In my option, this is an "eat with a spoon" kind of salad!

Olives

I used a brined kalamata, but green or black work as well.

Roma Tomatoes

To be honest, I just started including tomatoes into this recipe in the past year! I had a strong hatred for them all my life, but they are finally growing on me.

Red Onions

Be sure to chop these up very fine, unless you like an overpowering-red-onion-spoon-full.

Chickpeas (or Garbonzo beans)

These add some great protein as well as a creamy texture!

Cucumbers

It's hard to choose a favorite element of this salad, but the cool and crispy cucumbers really are the star of the show!

Feta

Use as much or as little of this as you would like! Feta is my absolute favorite cheese, so I used half a block. You can also buy pre-crumbled feta for an even quicker prep time.

Italian Dressing

I know, it seems odd to use Italian dressing in a seemingly Greek pasta salad, but it brings all the right flavors with just a hint of sweetness! I just use plain old bottled Italian dressing. You could of course make your own, but remember this is an EASY pasta salad!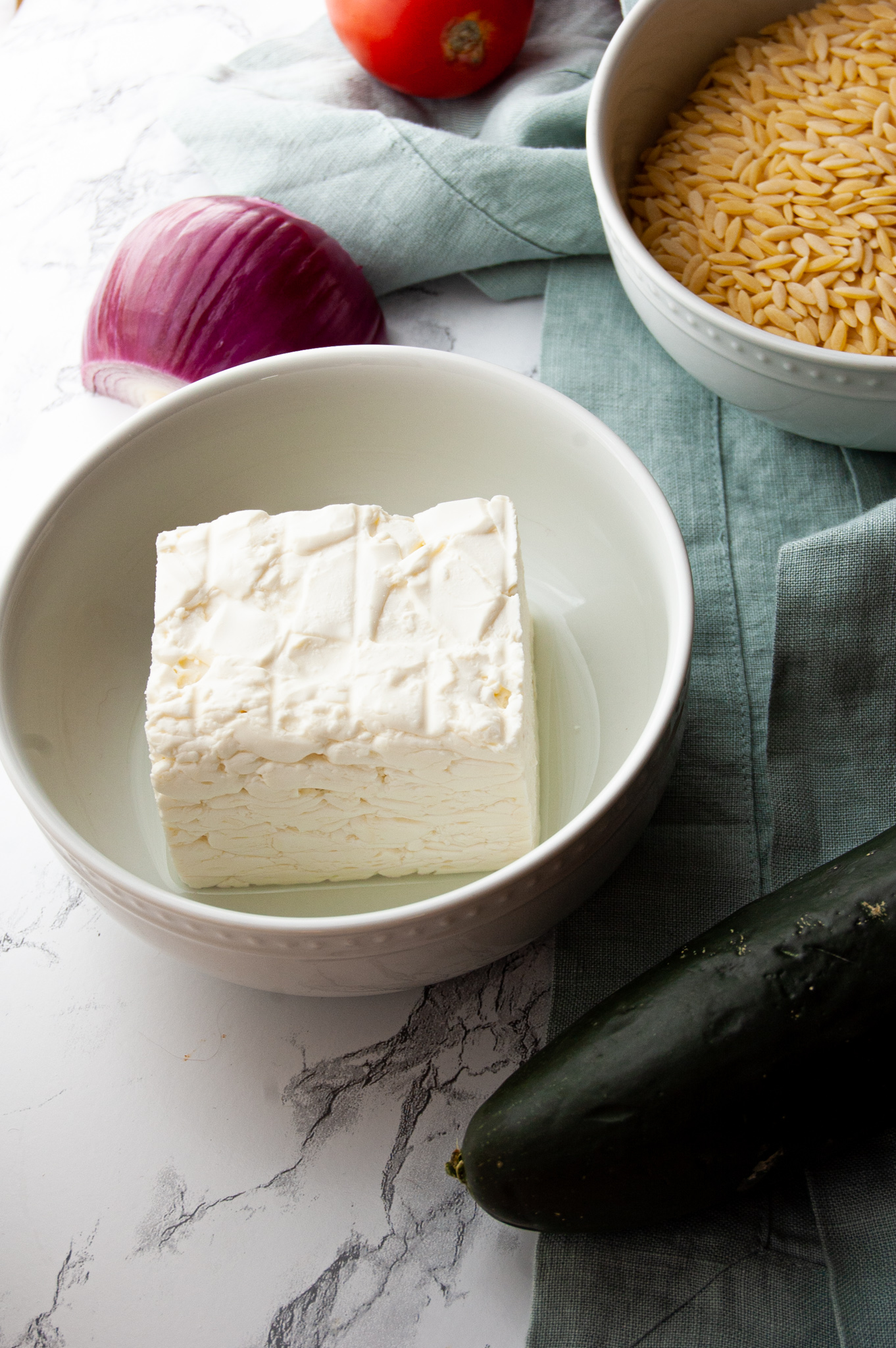 Easy Summer Orzo Pasta Salad
First things first, bring a large pot of salted water to a boil and then add in 1.5 cups of uncooked Orzo pasta. Cook until tender, about 8-10 minutes. Be sure to stir occasionally to prevent sticking and burning to the bottom of the pot!
While this is cooking, chop and prepare your other ingredients. Here is a handy list of what the recipe calls for and how much produce to actually buy!
1/2 cup diced red onions = about 1/2 a red onion
3/4 cup diced tomatoes = 2 Roma tomatoes
2 cups diced cucumbers = 2 medium cucumbers
3/4 cup crumbled feta = about a 6oz container of crumbled feta or 1/2 a block
We will also use 1 can of chickpea, 4oz can of sliced olives, and 1/2 cup Italian dressing.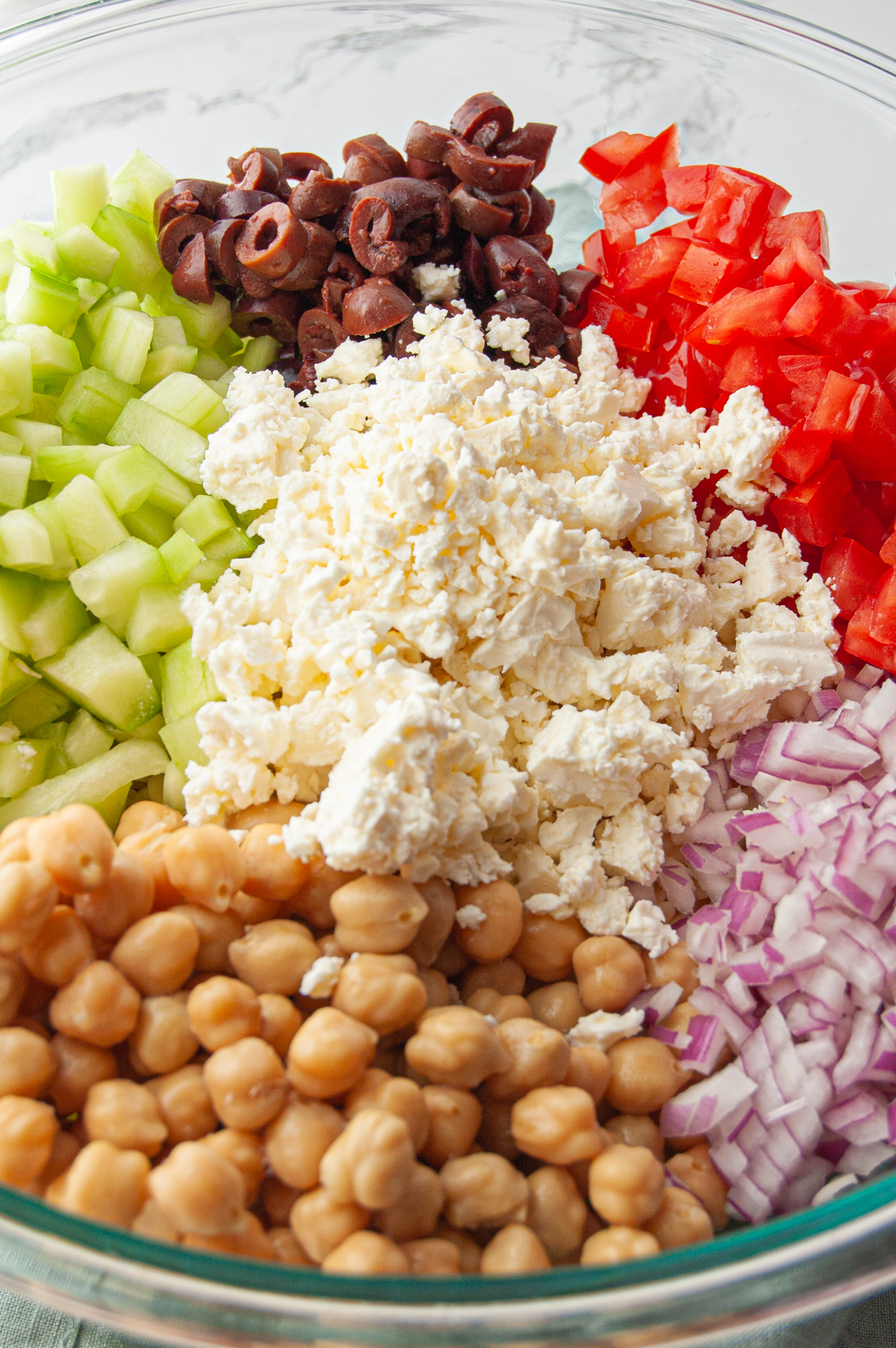 Once the orzo is cooked to perfection, drain and rinse with cold water to stop the cooking. I like to run it under the cold water for a few minutes to give the cooling process a head start. Once the orzo is drained really well, add it to a large bowl (preferably one with a lid). Then you simply add in all of your prepared ingredients, drizzle with Italian dressing, and toss!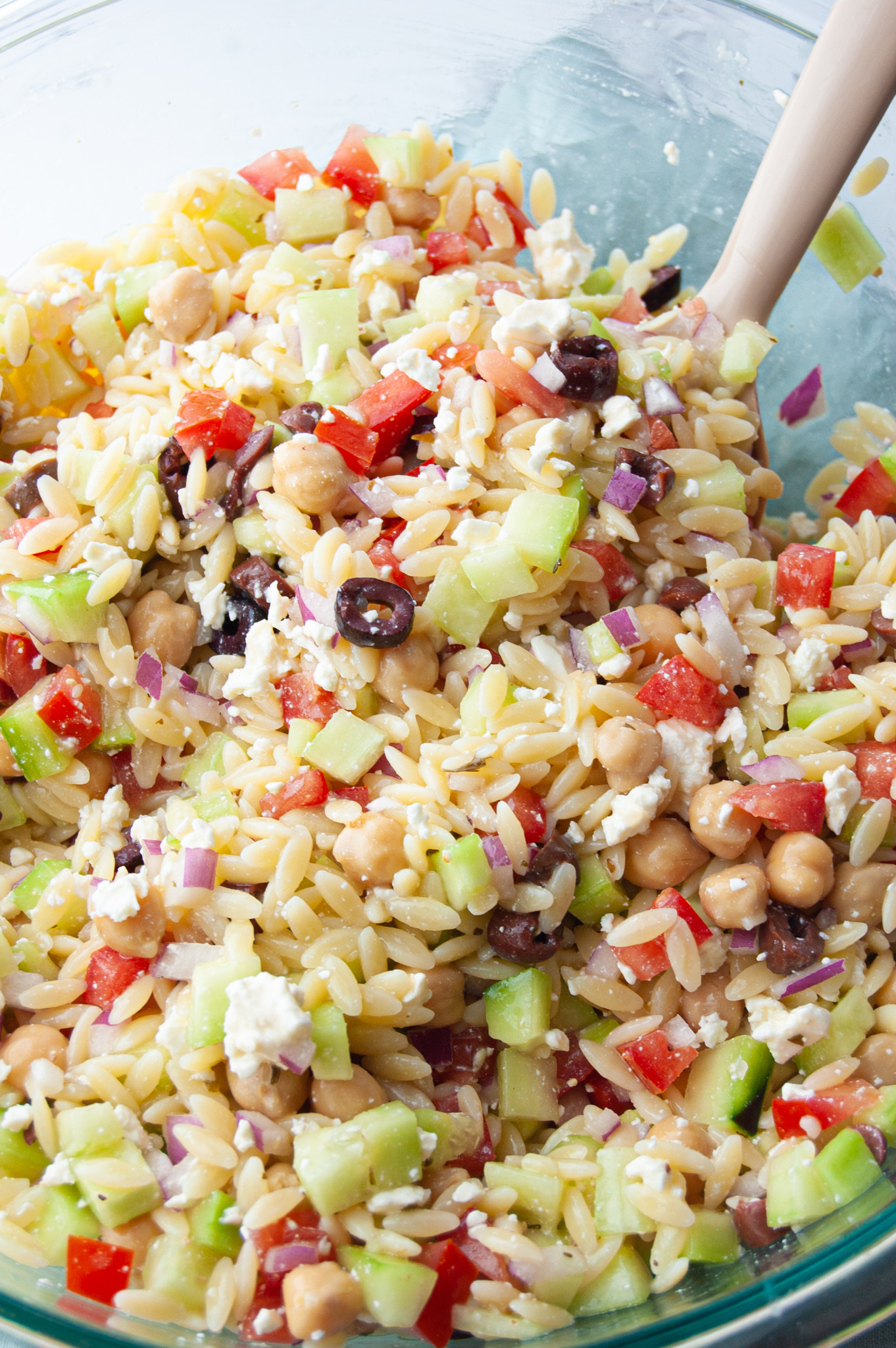 You can totally eat and serve it right away, but I prefer to put it in the refrigerator and let it cool a little more. You may also notice that as it sits, some of the dressing absorbs. Before serving, give it a taste and see if it needs any more dressing. I always find myself adding a little drizzle! You can also top with some fresh or dried parsley & basil before serving.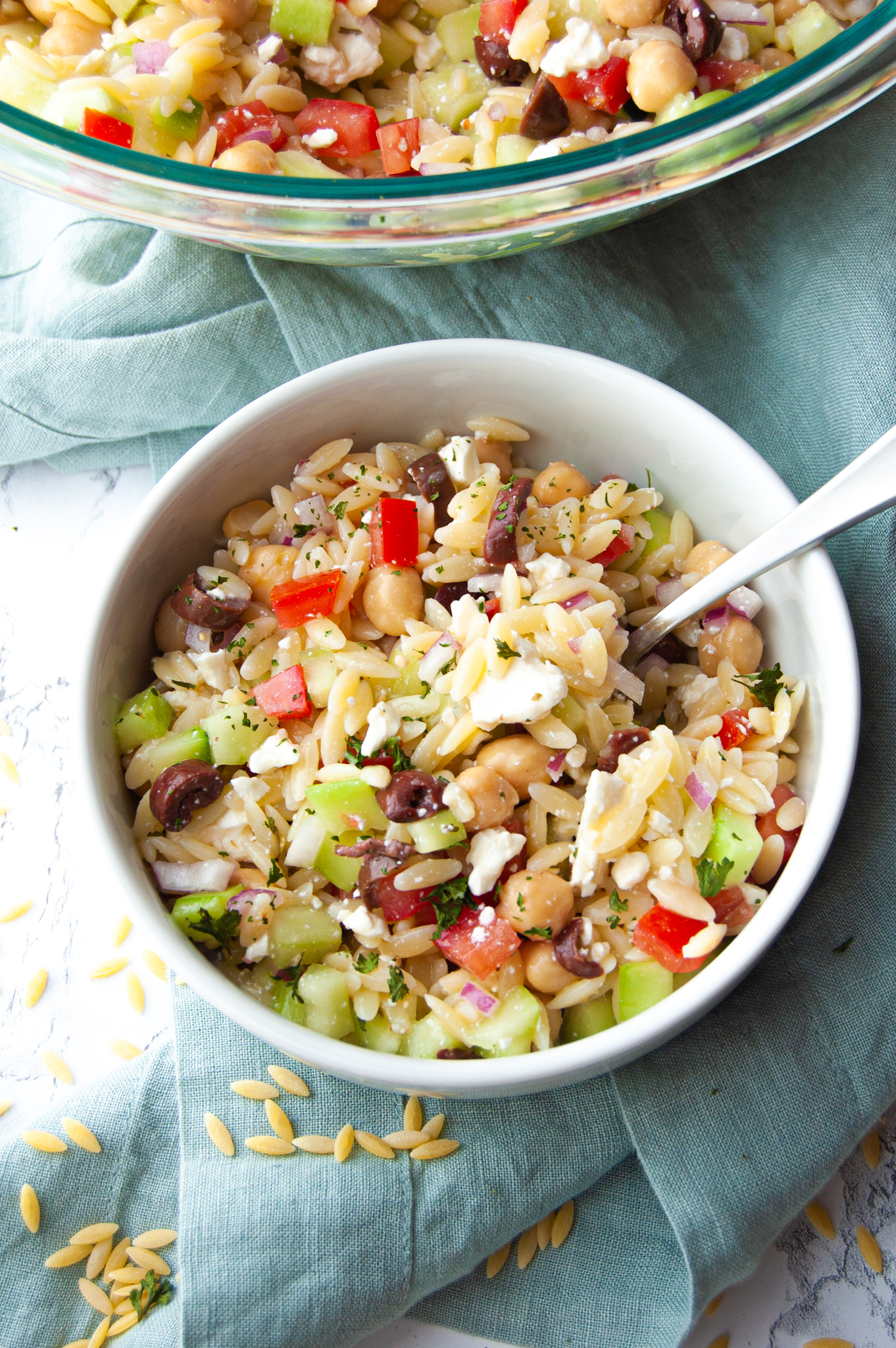 This is great to make in the summer and just keep in the fridge for lunch or whenever you need a cool and refreshing snack! No judgment whatsoever if you just eat it with a spoon right out of the bowl 😉.
Leftovers can be kept in the fridge for 4-5 days…if they last that long!
Enjoy!
I hope you love this Easy Summer Orzo Pasta Salad and it's your new go-to summer recipe to share!
If you make one of my recipes, please be sure to leave a rating and comment! It really helps my recipes get seen and tried by others.
Also, tag me (IG @homemade_haley) or use the hashtag #homemadehaleyrecipes in your post or stories! I can't wait to see how it turned out.
Thank you so much for your support. From my home to yours,
xo Haley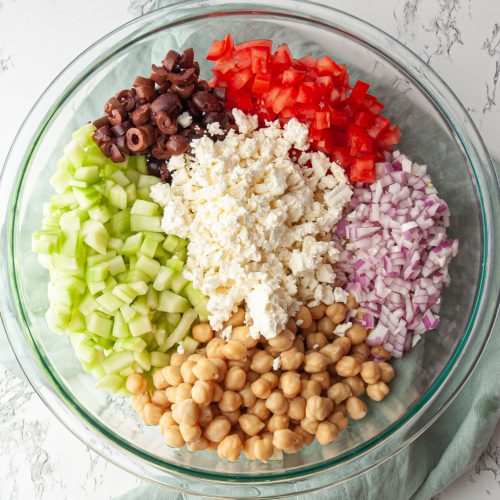 Easy Summer Orzo Pasta Salad
This Easy Summer Orzo Pasta Salad will soon be a family favorite! A quick 15 minutes and you have a fresh and cool side dish for any summer BBQ or get-together!
Ingredients
1.5

cups

Orzo pasta

uncooked

1/2

cup

finely diced red onion

about 1/2 an onion

3/4

cup

diced Roma tomatoes

2 tomatoes

2

cups

peeled & diced cucumbers

2 medium cucumbers

3/4

cup

crumbled feta

about 6oz container or 1/2 block

4

oz

sliced olives (kalamata, green or black)

canned or jarred

1

15 oz can

chickpeas (garbanzo beans)

rinsed & drained

1/2

cup

Italian dressing**

1

tsp

fresh or dried parsley for topping

optional

1

tsp

fresh or dried basil for topping

optional
Instructions
Bring a large pot of salted water to a boil and add the Orzo pasta. Cook for 8-10 minutes until tender, then rinse with cold water and drain well.

In the meantime, chop and prep all of your ingredients.

Add the pasta and toppings into a large bowl and toss with the Italian dressing.

Serve right away or for best flavors, let sit in the fridge for about an hour until cool.

Top with fresh or dried parsley and basil. Enjoy!
Notes
** If it seems a little dry before serving, add a drizzle of more dressing. 
Feel free to add as much or as little of any ingredient to your liking!
More Summer Appetizers & Sides!
Save Now, Make Later!
Check me out on Pinterest